COMING UP ON SAT. MAY 30th, 2015 on Dynasty Network Global Radio 1382.@ 4PM MST/PST, 6PM CST, & 7PM EST.
Empress T will discuss how Christianity and other religions have been/are being used to kill the so-called black family through the methods of spiritual system hijacking. This is a live call-in show so please join us @ 646.716.7572
"Let's learn how to save ourselves instead of waiting on someone to do it for us…" Empress T
ABOUT THE HOST: Life After Christianity 101 was created by radio host Empress T'Malkia Zuri in 2012 on her own blogtalk network "Dynasty Network 1382." She began her radio career on a Christian radio station in Phoenix, AZ KXXT 1010. After refusing to "dumb down" her topics, a mutual agreement was met and Empress T was released from the contract after refusing to conform to their request.
Empress T is a recovering Christian who is 41 months clean after 44 years of indoctrination, and celebrates her sobriety date on Dec. 27th. She has devoted much of her time to sharing what she has learned about the mental effects of Christianity in the Black Family. She is a former National licensed Minister under one of the largest churches in the U.S, a former Armour Bearer to 2 pastors and a bishop, and a former Sunday School and bible teacher. Empress T is also entering her second year (in June) as a student at the University of Metaphysics in Arizona and is obtaining a degree in Transpersonal Psychology.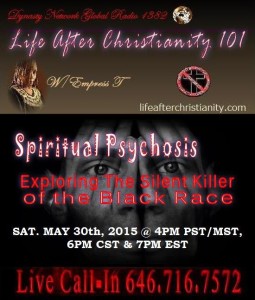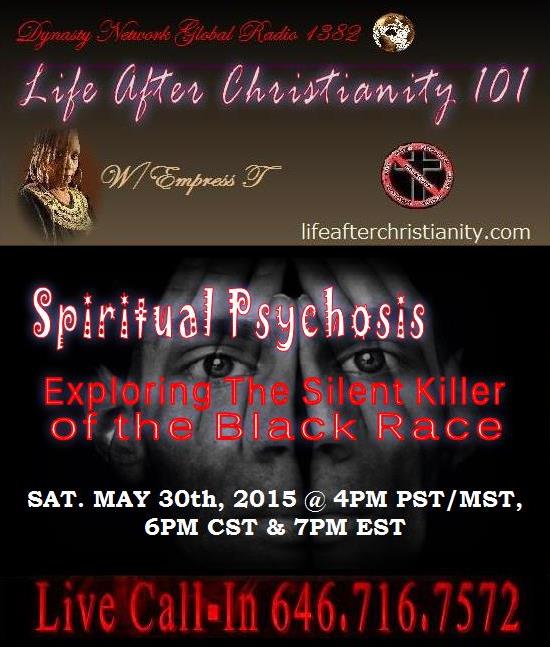 Empress T is the Author of her latest controversial book Divorcing Jesus: A Love Story(www.divorcingjesus.org).
Empress T's main objective is "NOT to CONVERT our people, but to PROVOKE our people to think and study for themselves". Remember….Her tagline is REVERSING THE CURSE OF RELIGION, and her main point is to remind all who tune in that YOU ARE THE VERY GOD YOU ARE SEEKING…You don't want to miss this show…….This is a live call-in show…646.716.7572
DYNASTY NETWORK GLOBAL RADIO 1382
REVOLUTIONARY RADIO FOR REVOLUTIONARY PEOPLE!-
Saturdays @ 4PM MST
Listen on Phone: 646.716.7572
Listen Live: blogtalkradio.com/dynastyradio1382
Our Web: www.lifeafterchristianity.net